Our 1:12 Scale Custom Humvee Military Vehicle is now available for purchase at our eBay and Etsy store.
The Custom Humvee scales well with 6-inch GI JOE Classified and Marvel legends figures. With fully functional doors and wheels, it's a must have accessory for GI JOE and Legends enthusiasts!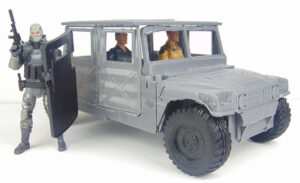 GI JOE Classified figures fit perfectly inside, and gives them an instant "cool" and "awesome" factor on display.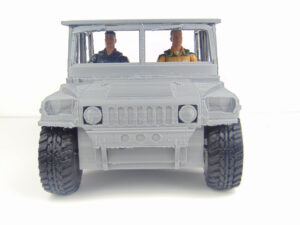 The custom Humvee is 3D-Printed and fully assembled in-house. Asking price is $67.95 (plus shipping to your location.
And with a price tag that low, it's no wonder that the accessory is "hardly ever in stock!"
We apologize in advance, but although we would like to have more Humvees in stock at any given time, they simply take a lot of time to print all the parts and assemble them together (67 – 70 hours total).
And because they take a lot of time, we require a 10-business day handling time to get everything together. Don't worry, it usually doesn't take that long, and we will do everything we can to get your order out the door ASAP. However, I like to give us some time just in case.
But trust me, that 10 business day wait time (or less) will be much worth it.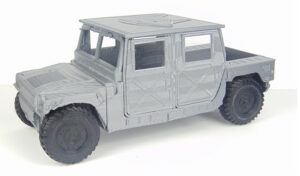 For now, the Humvee is available in Gray color. However, we do plan on releasing a version of it in Army Green color, some time in the Fall or Winter of this year. So, stay tuned for that and keep an eye out.
Lastly, a different variation of it will come out as time goes on. What different variation, you may ask?
Well, one variation is having a mini-gun turret mounted on the roof of the Humvee, or a missile launch pad mounted on the back of the vehicle.
Those kinds of variation…..  =)
Those are being designed at the time of this writing and should start coming for release some time in the Fall or Winter of this year as well.
That's all for now and thank you all once again for your support.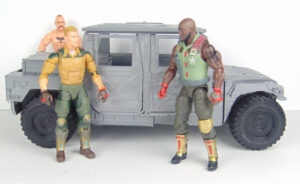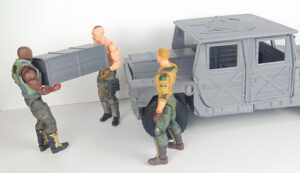 Feel free to contact us should you have any questions or need to place a bulk order.
Thank you and God Bless my friends!